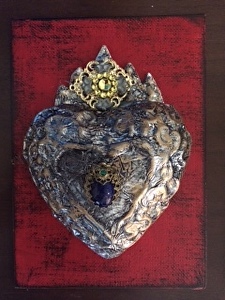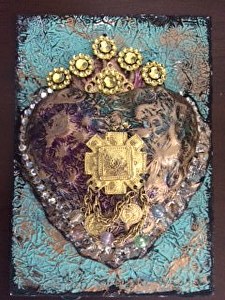 We will be using a variety of techniques to adorn and decorate these paper mache hearts to look like hand tooled tin. This course has been inspired by my many trips to Mexico and Italy.
Techniques include:
Antiquing, painting, embossing, and assemblage.
All supplies are included, however if you would like to personalize your heart, I would recommend bringing broken bits of jewelry, rhinestones,milagros, charms, your favorite bits of ephemera.
Tools to bring to class: Glue gun, scissors, pencil or writing pen.
You will be taking home a completed piece ready to frame and hang. I will also have small "grab" bags full of goodies and baubles for sale.

Yoli has immersed herself in making and exhibiting her Latino influenced art that includes icons such as Frida Kahlo, Santos, Guadalupe, vivid colors and edgy sensibility. She also participates in spreading the love for her favorite cultural holiday, "Dia De Los Muertos." Yoli has exhibited her art work at numerous galleries, on television and at art festivals throughout Northern California. In addition to creating art, Yoli teaches mixed media workshops at her studio as well as a guest teacher at other studios and venues. Yoli currently shares a studio at ARTHOUSE on R, (Studio 10) located at 1021 R street, in Sacramento, CA.

Saturday, August 13, 2016
11am - 2pm
Fee: $45 plus $10 materials fee.
Minimum 4 students / maximum 10 students
Location:
Sacramento Art Classes
2436 Loma Vista Drive.
Sacramento, CA 95825
To register for this class, contact Yoli at sacredyoli@gmail.com .
There is a paypal link to the right of this blog. Payment confirms your class reservation.